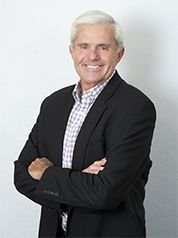 Verlin Simmons has been a resident of San Diego County since 1966 and has over 25 years of experience in real estate sales in the area. He started in land and agriculture sales in North San Diego County and moved into residential sales when he relocated to Carmel Valley in 1998.

Verlin enjoys working with people who are in transition: either relocating to San Diego from out of the area, or lifestyle changes related to life events where they are moving up or down in the residential real estate market. Often these moves require not only a knowledge of the local real estate market, but also knowing the area communities so he can best match the client to the community. "I love the process of not only locating a home for someone, but educating them on the neighborhood, and the area in general - what it has to offer in schools, restaurants, or connecting their interests with activities or groups in the area." For over 50 years, San Diego has been the backdrop for Verlin's own transitions starting with high school, to raising 3 children, and now as an empty nester. Verlin enjoys sharing his experiences and knowledge of the area with his clients.

As a Baby Boomer, Verlin understands the unique needs of his generation as they transition from the "family home" to a new lifestyle. Baby Boomers have unique needs and Verlin has a personal understanding and sensitivity to the questions and challenges facing his generation. "I have a great appreciation for the single story family home and the economic, emotional, and physical challenges associated with the next phase for the Boomers." Verlin sees it as the next opportunity and embraces San Diego as the place to be a Boomer.

Verlin qualifies as both the newest and the oldest (in age) member of the McInerney Team joining them in 2015. He saw the team concept as the best way to provide a quality full-service experience for his clients. The McInerney Team brings together different experiences, expertise, and perspectives which provides their clients with the power of a team instead of a single independent agent to smoothly guide them through the process of either selling or buying from start to finish. "We put our ears to the ground and are constantly coming up with new ideas and strategies for clients." In addition, Verlin feels that Pacific Sotheby's and Sotheby's International provide an incredible platform for brand identity, marketing, and global reach for our customers. The combined experience and services are unsurpassed in the San Diego market and the McInerney Team track record of 48 sales last year totaling over 50 million dollars demonstrates it. Verlin notes: "Jim, our team leader, is known for his quote: 'Real estate never sleeps." I joined the McInerney Team and Pacific Sotheby's so I could, knowing that my clients will receive that care and attention to detail that they deserve and expect."

Verlin lives in Carmel Valley with his wife Maureen. They have 3 adult children and 3 grandchildren. Verlin received his Bachelor of Arts at the University of California, Berkeley in American History. He continues to enjoy reading history books; the San Diego outdoor lifestyle; sunsets over the ocean; mountain biking, an ongoing gin rummy game with Maureen (which she currently holds the lead), and is still looking for the perfect single story home.
"Both my wife and I could not be happier with our experience selling our home through Verlin of Jim McInerney Real Estate. McInerney Real Estate came highly recommended and the service provided, communication, information and sales advice exceeded our expectations. Up-to-date and accurate information regarding the real estate market where we were located was most valuable in pricing our home, dealing with buyers, and reaching a decision regarding the final sale to the buyer. Excellent communication was maintained throughout the sales process, questions were answered in a timely manner, buyers were screened, and either Jim or Verlin was present whenever the home was shown to buyers. Again, we could not be happier with the service provided by Jim McInerney Real Estate and we will continue to refer their service to sellers or those interested in selling or buying real estate."